on
November 13, 2019
at
10:30 PM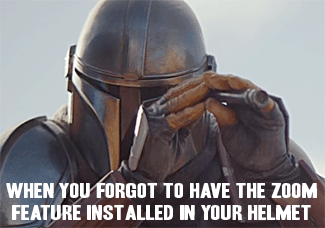 Here's a fairly spoiler-free look at episode one (not to be confused with Episode I), but I'll the meat of it behind a jump cut:
LucasDisney's new series, The Mandalorian, just made its debut on Disney's new streaming service. Overall, it was a good opening episode and very easy to dive into. There was a flashback sequence for the main character that was a little heavy-handed, but other than that, I thought it worked well to set the stage. It reminds me most of the Dark Horse Star Wars comic books, as if this was a vignette that could be part of a bigger story but works fine on its own. I did catch a few glimpses of the actor playing the titular role looking a bit like he couldn't see well with his helmet on, especially when he had to run or do other action-y stuff. I can only guess that they didn't use the technique I've seen in other media, where visors and other reflective parts of headgear are added via CGI later, allowing the actors to have a larger field of vision. It'll either work itself out in time, or it'll make for an amusing "fail" compilation.
Is it good? It looks that way thus far, but I don't know if we're in for a more complicated plot or if they're going to have the episodes be more stand-alone-ish. Either is possible, since it'd be easy to have a "bounty of the week" setup driving the plots, and it's Star Wars, so things being more epic in scope is kind of par for the course.
Hit the jump for some more detailed and random observations.
↓ Read the rest of this entry…