on
July 12, 2019
at
2:05 AM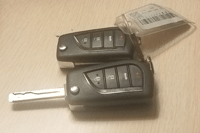 I'm on a bit of an outing to places West involving a rental car and my household kin. The vehicle we're using is from a rental company that shares the name with a famous starship, and it's more advanced than the vehicles we own in the same way that Tony Stark's work outfit is more advanced than the cosplay armor I could make in a weekend if I had access to several boxes and a few rolls of duct tape. The 2019 Camry we're tooling about in has a radar system for adjusting cruise control, a rear-facing camera, some gizmo that's supposed to keep the car in whatever lane you're occupying, and a sound system that will force itself upon any nearby cell phones in a way that makes me wonder what the bar scene near this car's factory is like. However, none of those future-tech things created the perfect storm of "whoopsie" we had today, though the radar occasionally had a blind spot when going around a curve with a descending grade, which apparently made the car want to mate with the rear end of the one in front of us. Again, I'm thinking the engineers responsible are not people I'd want to go out with.
Anyway, this setup (which might work for a comedy film, so screenwriters take note) starts with the rental company doing something kind of odd that even the guy we rented the car from couldn't explain: The two button-festooned key fobs for the car are held together with a thin steel cable. The best guess was that it would keep the user from losing one of the keys. Ergo, we have, in essence, a single key, but it's the size of two keys and a metal cable. This wasn't too cumbersome, but it did come into play when we got to our hotel.
While unpacking the car, my wife and I enlisted the help of our 9-year-old son to go and get something from the car's trunk. To open the trunk, you can either press the button on the dashboard, or you can hold down the trunk button on the key fob. Loving buttons and remotes, our kid went for the key fob. He dutifully opened the trunk, got some of our stuff, and came back into the hotel room. For some reason, my parent-senses tingled, but a little too late.
Me: "Where are the keys to the car?"
Offspring: "I dunno. I had 'em a second ago."
Me: "So where did you put them?"
Offspring: [Incoherent mumbling and looking around.]
ME: (Admittedly assuming the worst) "Did you leave them in the trunk?"
Offspring: (Attempting to not realize they've ruined everything forever) "Maybe?"
After much questioning, searching, and coming to terms with reality, we found that he had, indeed, put the keys down in the trunk, picked up some luggage, and then shut the trunk lid. These are the keys, I remind you, that are wired together, so if one key is lost, both are lost.
Normally, in ye olden times when horses had just been replaced by automotive carriages, this would be a job for a locksmith. We called AAA, an organization that my wife is a member of for just such a disaster. The efforts of the unlocking professional were admirable, but we ran into Modern Car Security™ in a rather irritating way. When the locksmith opened the car door (which involved using several tools to pop the locks while pulling on the door, as the door would try to re-lock instantly), the car's alarm went off. This also disables all the manual controls on the car's dashboard, like the button that operates the trunk. This is also when we found out that you can't access the trunk from the cabin of the car without doing about $200 worth of damage to the back seat. The back seat does fold down, but to do so, you need access to the interior of the trunk.
I just wanted to point out that this is as close to one of those "you need to reload a save" scenarios from old point-and-click adventure video games I've ever been in. I wondered if a King's Quest game dev was hiding in the bushes, taking notes.
Anyway, we called the rental company, and we were told we'd need a copy of a key made by Toyota. The local Toyota dealership told us they couldn't make us a copy without some high-level permission from the rental company, since for all they knew, we were car thieves who were posing as clueless vacationing midwesterners, using their kid as a method of tricking major car manufacturers into making keys for hot Camrys. I'm being facetious here, as nearly every obstacle we've encountered is probably a reasonable security measure. I'm just wondering if they were thought through when they came into play with each other.
After a lot of phone-wrangling and a huge amount of luck in getting a high-level manager from the U.S.S. Rental Agency to give Toyota the clearance to make a mechanical trunk key for us, we did manage to get into the trunk. The alarm went off again, but they key fobs were now accessible to tell the Camry that everything was fine and it could stop panicking. There was much relief, especially on the part of our kid, who was worried that he'd have to pay for a 2019 car before the age of 10, and we were finally able to finish unpacking.
So I'm not sure what the lesson is, but I thought the setup was complicated enough to pass along to anyone looking for a contrived reason as to why their fictional protagonists can't get in their car and leave the haunted house or if someone wanted a challenging setup for their tabletop RPG players who need to break into a vehicle. In any case, I'm keeping my kid away from buttons for at least the rest of the summer; I won't even let him have a shirt with buttons if I can help it.
I also wanted to pass this along in case we never make it home, as it may give the investigating officials an indication to look for what insurance agencies might call "Acts of Comedic Ill Fortune."