on
September 14, 2019
at
12:55 AM
This may seem nitpicky, but a while ago I noticed something that kind of irks me about the box art for Rice Krispies cereal. Our world has an abundance of talented graphic artists and the Kellogg's company sells something like 2.7 billion boxes of cereal a year, so you'd think their mascots wouldn't have copy-pasted faces: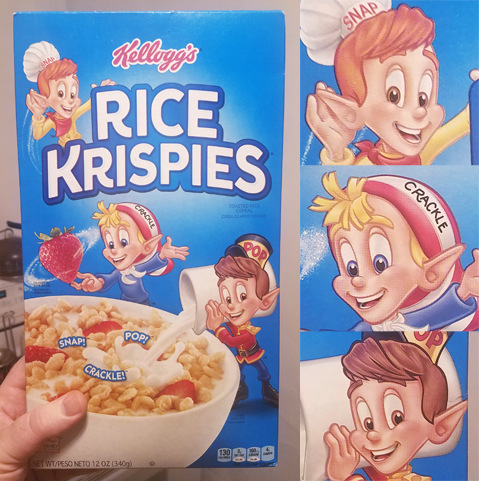 This, of course, paled to Cap'n Crunch not changing the "Crunch-A-Thon" puzzles and games on the back of their box for about 13 years, leading to a Change Dot Org petition. I'm starting to get the feeling that cereal boxes aren't a priority for everyone these days for some reason.
Anyway, here's non-cereal things to occupy yourselves with:
• Start up your scientific speculation as we're about to get our second documented visit from an object from outside of our solar system in the form of a comet. The previous visitor was the elongated asteroid named Oumuamua which I'm going to facetiously claim means "Galactic Yard Dart."
• Tom Hanks is going to make an astronaut movie based on a Mattel toy called "Major Matt Mason." I'd never heard of him either, so I'm wondering if this is going to be the purchase of an IP that they can slap any old story on so long as it involves Hanks in a space suit?
• If you're like me (and I know I am), you've heard a YouTuber or podcaster utter a word that you're pretty sure they've only read and never heard pronounced. Apparently the name for this is "Calliope Syndrome." Even if it's not official, it sounds like it should be… if it's pronounced correctly.
• I rather enjoyed these ideas for unusual districts in fantasy settings, so I thought I'd pass them along to any aspiring DM's who want to inflict them on their players.
• The TSA has reversed its decision on "thermal detonator" Coke bottles from the "Edge of the Galaxy" attraction. Bounty hunters can finally fly again.
• Offworld Designs, who graciously prints the oddball ideas for garments I come up with, is headquartered in a town named Sandwich, Illinois. I may have to call and see if they're all right, as the SCP Foundation has designated the area as "Site 481" due to the presence of a food-oriented entity.
• And here's a game/toy that's probably best for phones/tablets, but Guns and Bottles is a satisfying little BANG-SHATTER game where you tap/click to fire a rotating gun at the right time to turn bottles into shards.