on
July 16, 2018
at
3:37 PM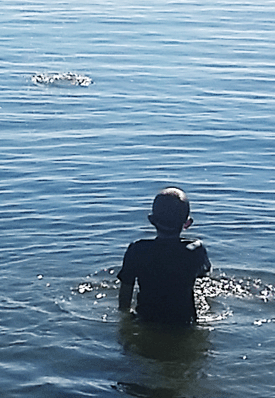 I'm back home after a must-go family trip (as in "the family demands that you must go with them") and I'm back to having my usual tools and hardware to make stuff for you, the internet.
On the plus side, Josh learned "skip rocks." It's very effective.
I did have my laptop with me, so I could find the following and drop them in your virtual laps:
• Remember the scandal-ridden video game, Aliens: Colonial Marines? It turns out at least one of its gameplay issues was caused by a one-letter typo that affected the aliens' A.I.
• Could there be only one fandom left that's "good?" Frank Herbert's Dune might be it, by virtue of being hard to turn into a cash-cow franchise… so far.
• Good news: New archaeological sites are being revealed by a British heatwave. Bad news: Climate change is sinking lots of arctic archaeological sites.
• Font choice can be important, especially when you want to claim your document is of a certain vintage. I would've bet on Comic Sans someday undoing someone's schemes, but that's probably just me.
• Maybe I'm missing something, but is this trailer for the next season of Doctor Who about as non-specific as you could get without leaving the title off? I was kind of hoping for a bit of a tease regarding a villain or two, unless it's someone who teleports the pizza we just ate back into the box so we have to eternally consume it or starve.
• How about some puzzle-gaming with Hexa-Knot? Swap hexagonal tiles with multiple colored lines on them to form completed paths while electro-synth music plays in the background.