on
September 27, 2019
at
2:07 AM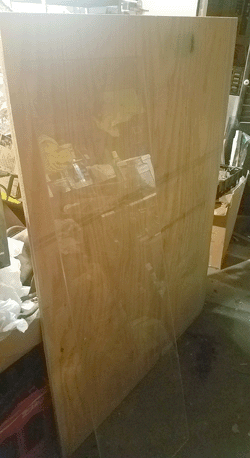 My son's school recently had a carnival, and I thought having a simple game where toy race cars could go down a ramp and land on some kind of target would be a cool ticket-winnin' activity. After hunting around online, I even found that one could get loads of cheap off-brand toy cars for very little money, so the plan was to have a game where the kids could not only get tickets for the prize table, but win a toy car, too! This is how it started, with a big piece of wood and some leftover Plexiglas (which is very hard to see in that photo, but trust me, it's there).
Getting a first step and building around it is usually how I put things together, so I bent the plexi into a curve and had my kid trace the resulting shape on the wood. I added a flat launching area to the top of the ramp-shape, and I got out the ol' jigsaw.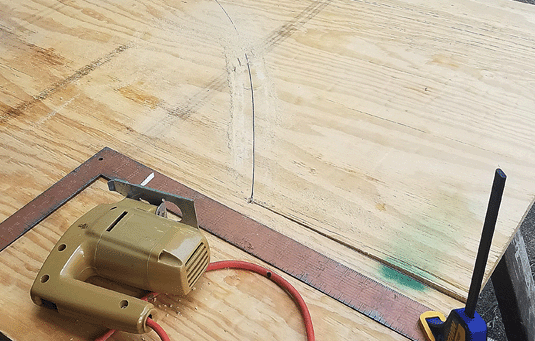 Two jigsaw blades later (they were kind of old to begin with), I had one ramp shape. I traced it on the remaining wood and I now had the sides of my ramp. I primed both sides and painted them white, because that's the color of paint I had in the workshop:



I then measured the Plexiglas for width and cut a bunch of braces to hold the sides together and keep them stable: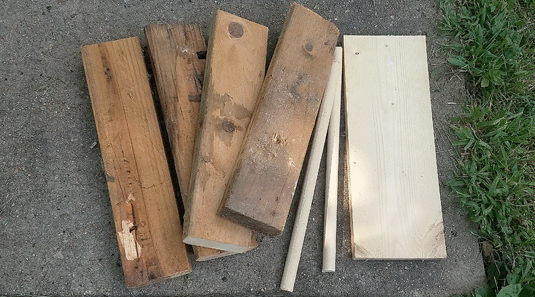 Putting it all together, it looks like I knew what I was doing, doesn't it?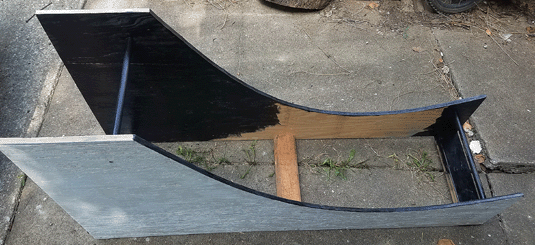 I painted the interiors at each end black, planning on having curtains or other obstructions to keep anyone from seeing the unfinished middle bits. Confident that it would take more than the usual amount of misfortune to break this wooden construct, I drilled holes in the Plexiglas and set to putting it on the ramp with screws. Then this happened: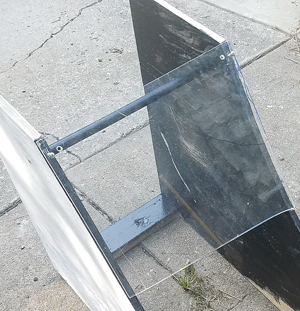 There always has to be a second-act setback, doesn't there? This is where I found out how expensive clear plastic stuff is, so replacing it became a bit of a financial conundrum. Thankfully, I found a different material: Corrugated plastic sheets. Imagine cardboard, but it's made out of plastic, complete with that wavy stuff between the two smooth sides. It's easy to work with, easy to cut, and it doesn't crack in two when some idiot decides to build something by the seat of his pants. I added some light braces to support it, attached it to my ramp and it came out looking pretty good: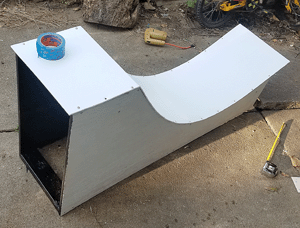 I just trimmed up the part where the kiddos would launch their cars and folded the excess at the end down, and it was more or less done! I did find out that my local auto parts store no longer sold obnoxious flame decals (you have to special order them), so I found some "holographic" duct tape and added a racing stripe. I also took some plastic endcap material and ran it down the sides as guardrails, in case someone's vehicle got a little out of control. And here's how it looked when we took it to Josh's school: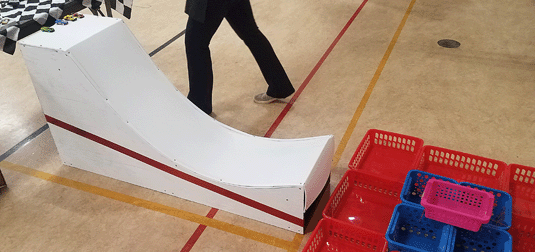 You might think that was the end of the dramatics, but there was more. The cheapo toy cars I'd ordered were appealing enough to look at, but they couldn't race worth a darn. They were too light and often didn't roll straight, so they'd sort of slide down the ramp and come to rest at the bottom of the curve in a rather sad testament to "you get what you pay for." I ran to the nearest drug store and bought five Hot Wheels cars that had "Great For Track" on their backing cards, and these were used to actually make jumps, while the lesser vehicles were given out as prizes if you landed your car in the central magenta basket.
That was the end of the dramatics. It was quite a popular activity, and I saw lots of 1st and 2nd graders walking away with prizes, so it fit the needed skill level as well. All in all, it worked out great, and now I need to figure out what I can build for next year. I'm hoping I can do something with pool noodles that get used as javelins… 🙂