on
October 19, 2016
at
5:43 AM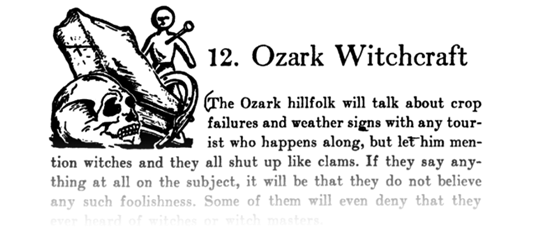 While doing some research for a potential writing project, I came across the text of a book entitled Ozark Superstitions by noted folklorist Vance Randolph. Published in 1947, it contains some interesting legends from a plethora of "hill people" that writers or game designers might find useful and everyone else may just enjoy perusing. For instance, there's this bit of trivia:
Nails taken from a gallows are supposed to protect a man against venereal disease and death by violence. Country black-smiths used to secure these nails and hammer them out into finger rings. As recently as 1943 there were boys in the Army wearing rings of metal taken from a gallows at Galena, Missouri, where "Red" Jackson was hanged for murder in 1936.
I can totally see player characters in a role-playing game trying to frame someone for murder, possibly one of their own party members, so they can collect the gallows nails for magic protection rings.
Doing a search for "venereal" brings up some other interesting notions about how certain social diseases operated, what signs would tell the future of children, and how to "cause" babies to be produced in a given household. What's interesting isn't so much the things that were believed in and practiced, but what they say about the concerns of those who used or perpetuated these bits of lore. The importance of disease, promiscuity, bad luck, and the threat of death in their day-to-day lives is evident in many passages.
The section called "Ghost Stories" has a few interesting tales for this time of year, though they'll probably seem very old hat by the horror standards of today. The fact they're related in a no-nonsense format leaves making them actually creepy up to the reader's imagination. It did have one story that seemed to have an unusual form of "defeat" for the ghost (emphasis mine):
In November, 1934, the Associated Press carried a long story about "The Ghost of Paris" a specter which has been seen at intervals in Paris, Missouri, for more than seventy years. The "Ghost of Paris" was a woman, tall, dressed in black, carrying some sort of wand or cane in her hand. She appeared every year about the middle of October and was seen now and then about the town until spring. The story identified this ghost as the jilted sweetheart of a Confederate soldier; on her deathbed she swore to haunt her faithless lover and the whole town forever. The "Ghost of Paris" was never known to injure anybody, but she frightened children into hysterics. Even grown men, in several cases, had been known to run down the middle of the street, yelling for help. It seems that the ghost has not been seen in Paris since 1934, and some people have suggested that the newspaper publicity somehow exorcised it.
Imagine how dull a movie The Exorcist or Poltergeist would've been if the solution to ending the haunting was to bring the invading supernatural entities into confrontation with beings they cannot withstand: Paparazzi. Then again, "You people coming around here and investigating must've made it leave" is probably not the way anyone wants a decent ghost story to end, which is likely why we don't hear those sorts of narratives much anymore.
Be aware also that this text is a product of it's time, and refers to some ethnicities in forms that could be taken as offensive. The author also seems to try to capture the dialects he was hearing, reminding me a bit of how Mark Twain famously wrote his dialog. The device used to optically scan the book used a dialect called "the occasional typo," so if you see a word you don't recognize, it could be due to a glitch during the digitization process. Or a ghost did it, but left because it feared fame… maybe.
Anyway, it's a neat text to skim through, seeing some familiar concepts still in use today for the telling of myths, legends, and stories. It was also a delight to discover one can successfully search the file for the phrase "ghost pigs." 🙂